MergePDF
MergePDF can merge many PDF/image files into one PDF file.
The main feature of MergePDF is that it determines the order of binding the PDF/image files according to their view sorting order in the Finder. The PDF files will merge with the order displayed (see the pictures in sec. "Usage" in the Manual).
Additionally, MergePDF can create bookmarks named according to their original file names.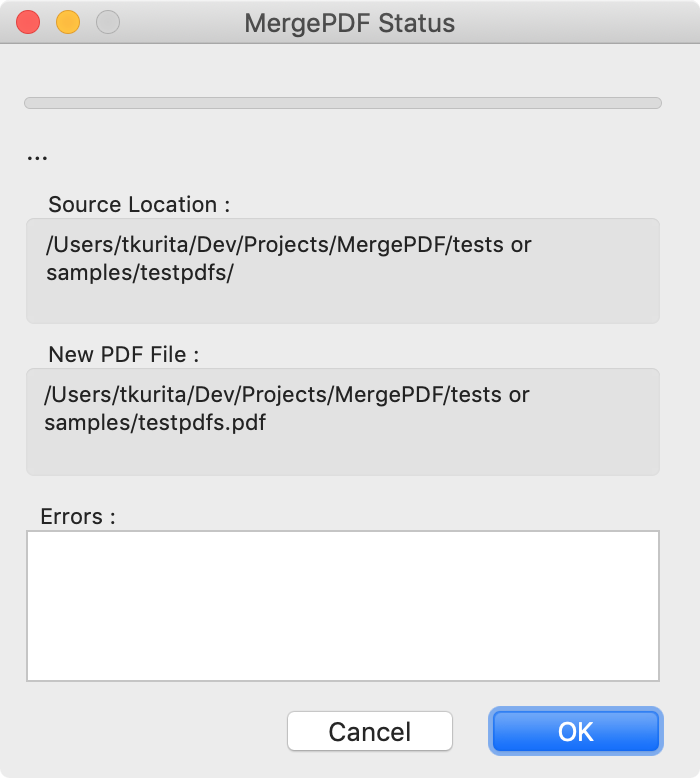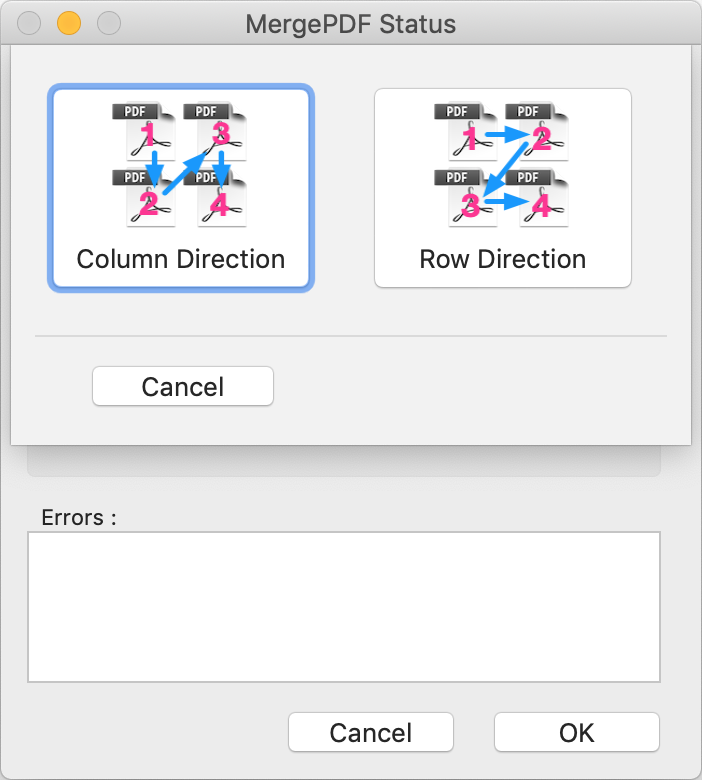 History
2.4.1 -- 2020-02-23

Adopt notarization.
Icons of buttons to indicate row/column direction is updated to support retina display.
Sparkle framework is updated (1.1.4.0).
Other internal changes.

2.4 -- 2016-08-24

Fixed : merging PDFs which have bookmars causes to crash
Added a code signing.
Update Sparkle framework.

2.3.1 -- 2016-05-03

Fixed error in OS X 10.11.
OS X 10.11 or later is required.

2.3 -- 2016-02-17

Cleanup and modernize source code.
OS X 10.8 or later is required.

2.2 -- 2014-03-10

AppleScriptObjC is used instead of AppleScriptStudio.
Does not work under Mac OS X 10.5 or before.

2.1 -- 2013-10-18

Fixed : merge order is not correct for files in Finder window of icon view.
Fixed : "Column Direction" did not become a default button for the icon view of which label position is at the side.

2.0.9 -- 2013-09-26

Fixed : error when a folder is droped on MergePDF.

2.0.8 -- 2012-06-07

Improved layouts of the Help Book for small Help Viewer's window.
Updated URL of the home page.

2.0.7 -- 2011-11-25

Fixed an error when processing image files thart don't have DPI infomation.

2.0.6 -- 2011-06-29

Fixed an error when working with Finder's Cover Flow view.

2.0.5 -- 2011-05-12

Fixed localization of a service menu.
Fixed : the service menu "Convert images to PDFs" does not works for image files except JPEG.

2.0.4 -- 2011-05-11

The size of a PDF file which merges JPEG files will not be enlarged in Mac OS X 10.5.
Added a serveice menu "Convert images to PDFs".

2.0.3 -- 2010-06-16

Fixed an error when view of selected location in Finder is the icon view.

2.0.2 -- 2009-09-29

Fixed an error when view of selected location in Finder is the icon view and items are arranged by a file property.

2.0.1 -- 2009-04-18

Fixed sorting order when items sorted with modification date or creation date in list view.

2.0 -- 2009-03-24

Works in Mac OS X 10.5

Dropped support for Mac OS X 10.4.

Removed dependency on Adobe Acrobat.
Added self-update function using Sparkle framework.
Can process multiple jobs at once.

1.8.2 -- 2008-05-02

Fixed errors when Acrobat 8 is used.
Dropped support of Acrobat 7.

1.8.1 -- 2008-02-23

Fixed Japanese localization.

1.8 -- 2008.01.29

Can merge general image files (png, jpeg, pict, tiff, bpm) into a PDF file.
Added a progress status window.
Many small improvements.

1.7.4 -- 2006.07.27

Fixed the error message "pdfList is not defined"
Fixed incomplete checking of busy status of PDF files
fix broken English localized resource

1.7.3 -- 2006.07.12

fix a problem when replacing an opened PDF file.
append a window to remind a donation.

1.7.2 -- 2006.01.26

Universal Binary
Fix an error when MergePDF is launched by double clicking in Finder.

1.7.1 -- 2004.11.02

fix a problem selection is in a column view.

1.7 -- 2004.10.29

A beautiful custom icon created by darkdaft.
implemented by AppleScript Studio

1.6.4 -- 2004.10.01

Fix the error when TextInfo OSAX is not installed.

1.6.3 -- 2004.09.08

Multibyte characters are shown in bookmark correctly.
Additional scripting additions are not required.

1.6.2 -- 2004.05.11

javascript is not use for bookmark

TEC OSAX is required again
bookmarks can work in "Preview.app"

fix some bugs

1.6.1 -- 2003.09.14

TEC OSAX is not required.
Fix a problem when the name of the folder including PDF files has multi-byte characters

1.6 -- 2003.08.14
1.5.3 -- 2002.10.20

Fixed an error when same filename to a final PDF file is in merged PDF files.
Fixed an error when an opened final PDF is overwritten.
embedded the function of OSAX Checker
Fixed an error when names of PDF files include special characters.
Corrections of this document (Thank you, Efisio Podda).

1.5.2 -- 2002.07.09

Fixed a problem that an error happen when same name file exists in the default saving location.

1.5.1 -- 2002.03.13

Fixed a problem in Acrobat 5.0.5 (Seki-san, Thank you)
Fixed a problem that PDF files of plural pages could not be merged (Takimoto-san, Thank you)
Fixed an error when length of folder name, which contains pdf files, is longer than 27 byte.

1.5 -- 2001.09.23

Adobe Acrobat 5 is supported. For Adobe Acrobat 4, you should use MergePDF 1.4.4

1.4.4 -- 2000.11.23

A problem of the position of created PDF file is fix once more.

1.4.3 -- 2000.11.18

Fixed an error, which occur at revealing a final PDF file in Finder
Fixed a problem where the final PDF file is created at an unusable position

1.4.2 -- 2000.10.09

First release with English document.
Any corrections to the English on this document are welcome.

.........
1.0 -- 1998.11.2