Trash It
"Trash It" is an AppleScript application to move a document opened in the front application to trash. This appllication must be executed from the Spotlight menu or the Script menu or other launcher utilities.
You may meet the case you want to put away the document opened in the frontmost, for example a file downloaded file from the Internet is unexpected one. "Trash It" allow you to delete the junk file without back to the Finder.
"Trash It" works as a background application, because it requires access the frontmost document. Therefore "Trash It" does not appear in the Dock and does not change the front application.
"Trash It" is expected to be launched from some launcher utilities, e.g. Spotlight, Script menu, Dock, LaunchBar and so on.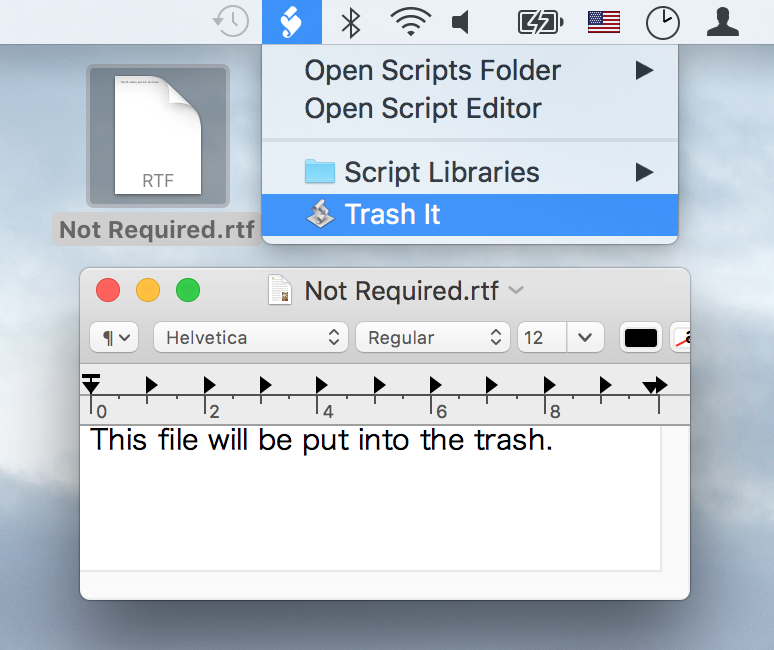 If you move a file to the trash by mistake, selecting the "Edit/Undo" menu of the Finder can recover the file quickly.
History
1.2.2 -- 2020-02-20

The application is notarized.
Fixed an error when files are droped.
Internal changes

1.2.1 -- 2018-07-24

Fixed errors when fornt application is Finder.

1.2 -- 2018-07-21

OS X 10.10 or later is quired.
Remove dependencies on scripting additions (SmartActivate.osax and URI Escape.osax).
Avod special folders e.g. Desktop, Libraries, Documents, Applications and so on.
Added code signing.