PowerSelect
PowerSelect find items which match with specified condition at selected location in Finder , and select them.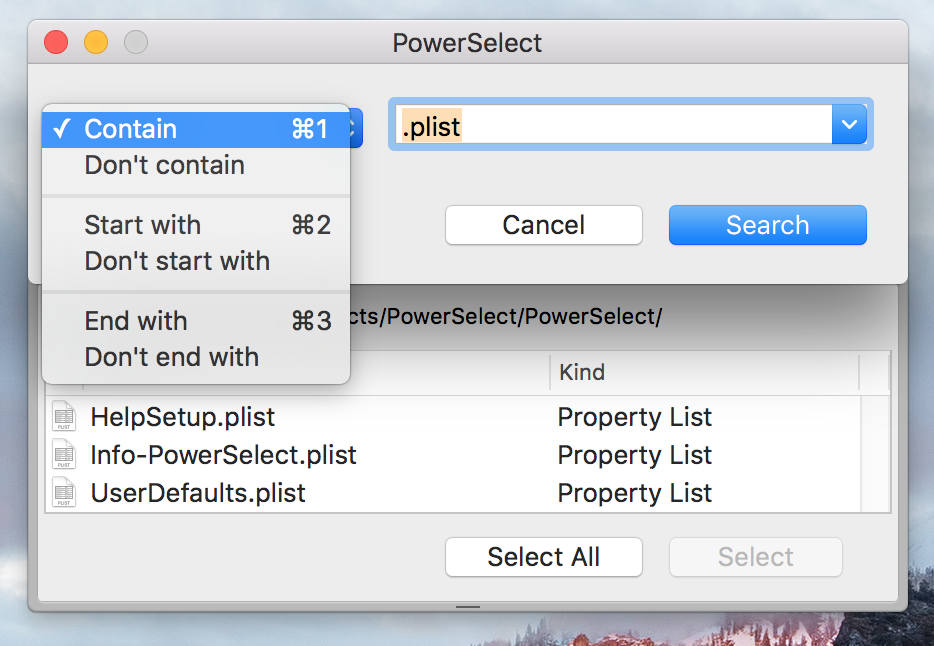 History
2.5.3 -- 2020-03-15

The application is notarized.

2.5.2 -- 2018-12-13

Fixed error when length of a file name is shorter than length of a search text.
Updated Sparkle framework. Version 1.19.0.

2.5.1 -- 2017-02-04

Added code signing.
Fixed error when a folder in a Finder window of list view is selected in OS X 10.11 or later.
Improved calculation of the size of the table view for search results.

2.5 -- 2016-02-26

The application icon support retina displays (Thanks to wakaba-san).
Clean up and modernize source code.
Mac OS X 10.8 or later is required.

2.4.2 -- 2013-08-27

Dropped 1024px and retina support form the application icon to avoid problems in Mac OS X 10.5/10.6.
Added a services menu "Find in Finder".

2.4.1 -- 2013-07-03

Fixed : "Action" menu did not work.

2.4 -- 2012-10-11

Multiple PowerSelect windows can be opened.
A searching task will be performed in a background thread.
Mac OS X 10.5 or later is required.

Dropped support of Mac OS X 10.4.

2.3.1 -- 2012-08-19

Updated the application icon (Thanks to wakaba-san).

Retina displays are supported.

Improved layouts of the manual.

2.3 -- 2012-02-07

Improved pourveyance.
64bit binaries are included.

2.2.1 -- 2009-11-07

Fixed an error when Finder's view option palette is opened.

2.2 -- 2009-01-12
2.1.3 -- 2008-11-23

First release with English manual.